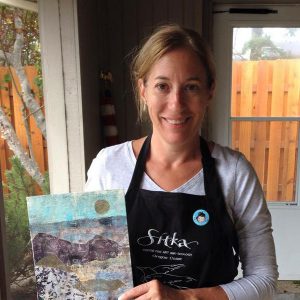 Raised in Virginia, Elizabeth M. Higgins is a teaching artist who has lived in Oregon since 1995. She maintains a studio and classroom in historic downtown Hillsboro and teaches children and adult art classes for various cultural organizations. Clients include the Walter's Cultural Arts Center (City of Hillsboro), Hoyt Arboretum, Oregon State University and Village Gallery of Arts. 
Elizabeth has been a lifelong learner of various art forms, including drawing, writing, photography and book arts. She found her true artistic passion in 2011 when she discovered watercolor painting. Watercolor painting offered her endless possibilities of color mixing, shape making and composition. She is constantly inspired by shape and color, and finds purpose in expressing herself through the bold use of watercolor pigments. Painting is playful and joyful for her, and these are the feelings she hopes to instill in others.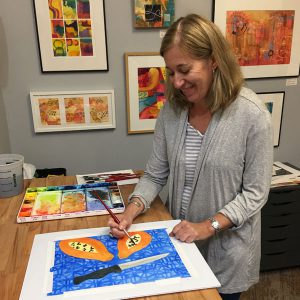 As a teacher, Elizabeth encourages others to have fun creating, to be open to possibilities, and to be confident in one's own creative expression. She is always inspired when teaching young children, who are unfettered by judgment or thoughts of what makes art "good" or "right." This is the outlook she strives to share with all of her students, regardless of age.
Elizabeth is a juried member of Watercolor Society of Oregon and is a member artist of Catherine Bede Gallery in Hillsboro, Oregon. Recently her collage art was featured on the set of the popular T.V. series "Portlandia." She has won numerous local awards for her vibrant, colorful watercolor paintings.
Resume
Profile
Watercolor painter and arts instructor. Juried member of Watercolor Society of Oregon. Represented by Catherine Bede Gallery in Hillsboro, Oregon.  
Teaching Experience
Arts Instructor, Hoyt Arboretum, Portland, OR – 2019 – present
Youth & Adult Arts Instructor, Walters Cultural Arts Center, Hillsboro, OR — 2015-present
Watercolor Instructor, Assembly PDX, Portland, OR  – 2018-2020
Youth Arts Instructor, Virginia Garcia Memorial Health Center, Cornelius, OR — 2017-2018
Adult Arts Instructor, Village Gallery of Arts, Portland, Oregon – 2017 – present
Youth Arts Instructor, HomePlate Youth Services. Beaverton, Oregon – 2017 – 2019
Facilitator, City of Beaverton, Oregon Employee Art Program – Spring 2017
Arts Instructor, Hillsboro School District, Hillsboro, OR — 2015
Arts Instructor and Coordinator, Art Literacy Program, West Union Elementary – 2005-2010
Related Experience
Juror, Village Gallery of Arts Spring Award Show, April 2019
Portland Publicity Chair, The Village Gallery of Arts, Portland, OR 2011-2015
Member, Washington County Cultural Coalition, Hillsboro, OR 2006-2008
Education
University of Oregon, M.S. Information Management
University of Virginia, B.A. Rhetoric and Communications Studies
Shows & Awards
Awards
Village Gallery of Arts Spring Award Show 2018 – 1st Place – Portland, OR
Village Gallery of Arts Spring Award Show 2016 – 3rd Place – Portland, OR
Village Gallery of Arts Fall Award Show 2015 – 3rd Place – Portland, OR
Village Gallery of Arts Spring Award Show 2015 – 2nd Place – Portland, OR
Group and Solo Shows
"2020 Spring Experimental Exhibition", Juried by Michael Reardon, Watercolor Society of Oregon, Spring 2020
"2019 Spring Experimental Exhibition/Traveling Show," Juried by Jean Pederson, Watercolor Society of Oregon, April – October 2019
"Joyful Flowers," Solo Show, Classic Body Restoration, Portland, OR – March – April 2019
"Journeys" Group Show, Westside Women's ArtShare Group, Hillsboro Main Library, May – June 2018
"Deconstructed Abstracts" Solo Show, Village Gallery of Arts, Portland, OR – February 2017
"Going on Record" Group Show, Westside Women's ArtShare Group, Insomnia Coffee – October 2016
Group Show, Village Gallery of Arts, Justice Center, Downtown Portland, April – June 2016
Instructor and Student Print Show, Multnomah Arts Center, Portland, OR – April – May 2016
"Coastal Landscapes" Solo Show, Village Gallery of Arts, Portland, OR – December 2015
"Food & Drink Paintings" Solo Show, New Seasons Market, Hillsboro, OR – October 2015
"Wax Paper Landscapes" Solo Show, Shute Park Library, Hillsboro, OR – March – April 2015
"200 Under $200" Group Show, Oregon Society of Artists, Portland, OR – November 2015
"Hillsboro Plein Air" Group Show, Walters Cultural Arts Center, Hillsboro, OR – October – November 2015
Wax Paper Landscapes" Solo Show, New Seasons Market, Hillsboro, OR – October 2014
Rose Festival Group Show, Oregon Society of Artists, Portland, OR – June 2014 s, Portland, OR – June 2014
Press Links
Read articles about Elizabeth and her teaching here: